The American Revolution Round Table of New York
It's Easy to Join!
New York's Revolutionaries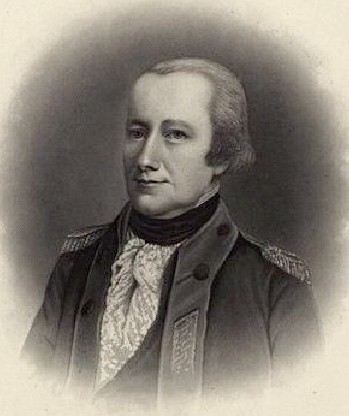 Alexander McDougall (1732-1786), born in Scotland, was a New York City seaman, merchant, and pamphleteer before serving in military posts throughout the Revolutionary War.
Contact: Mr. David W. Jacobs, Chairman
8 Spencer Avenue
Niantic, Connecticut 06357

e-mail: djacobs01@snet.net
phone: (860) 739-5505
ARRT-NY welcomes all individuals with a sincere interest in the history of the American revolutionary era, and boasts an interesting mix of academic, professional, avocational, and age backgrounds. Regular dues are only $40 per season, payable in October. (There are discounts for student, senior, and family members.)

Prix-fixe dinners are $45.00 per member, $55.00 per guest. (This also comprises our private accommodation and table service.)

One may join ARRT-NY at a meeting, or at any time, by downloading, printing, and mailing our convenient dues form (PDF, 71K), and following instructions on the form.
Current Members of the ARRT-NY Board of Governors
Chairman -- David W. Jacobs (e-mail)
Program Chair -- Dr. Joanne Grasso
Book Review Chair -- Lynne Saginaw
Newsletter Editor -- Frederick Cookinham (e-mail)
Secretary-Treasurer & Webmaster -- Jon Carriel (e-mail)
At-Large: John Buchanan, Polly Guérin, Arthur Lefkowitz, Andrea Meyer
ARRT-NY's Annual Best Book Awards
An ancillary activity of the organization is the annual announcement of our considered choice for the best book on the subject of the American Revolution published in the previous calendar year. All members are invited to nominate their candidates, and the ARRT-NY Board of Governors makes the final decision. A certificate of the honor is sent to the winning author. Below are the most recent selections.
| | | |
| --- | --- | --- |
| 2016 | George C. Daughan | Revolution on the Hudson: New York City and the Hudson River Valley in the American War of Independence |
| 2015 | Thomas Fleming | The Great Divide: The Conflict between Washington and Jefferson that Defined a Nation |
| 2014 | Tim McGrath | Give Me a Fast Ship: The Continental Navy and America's Revolution at Sea |
| 2013 | Andrew Jackson O'Shaughnessy | The Men Who Lost America: British Leadership, the American Revolution, and the Fate of the Empire |
| 2012 | Todd Andrlik | Reporting the Revolutionary War: Before It Was History, It Was News |
| 2011 | Maya Jasonoff | Liberty's Exiles: American Loyalists in a Revolutionary World |
| 2010 | Benjamin Karp | Defiance of the Patriots: The Boston Tea Party and the Making of America |
| 2009 | Thomas Fleming | The Intimate Lives of the Founding Fathers |
| 2008 | Thomas M. Truxes | Defying Empire: Trading with the Enemy in Colonial New York |
| 2006 | Charles Rappleye | Sons of Providence: The Brown Brothers, the Slave Trade, and the American Revolution |